February 19, 2018
We spent the night anchored off Wat Hanchey. Our first excursion of the day was to visit the Buddhist community, naturally at the top of the hill. So we climbed the hill to the gates of Wat  Hanchey.
Mike stay on the boat after being up all night with some stomach problems. (Note: He was fine by the afternoon)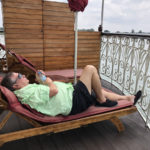 This temple was damaged and rebuilt in the 1990's. The three young monks gave us a water blessing after which they presened each of us a wristband (women on their left hand, men on their right). Our group even presented the three monks with gifts.
We walked the grounds found the residences, the dining hall, the schools. Sokun our guide told us about the life of a Buddhist monk. Young boys, of 12 or so tell their parents they would like to study at the pagoda. Theur parents go to the most senior monk and ask him to accept the boy for study. Young monks rise early, do chores, help the elders, study with the older monks, then in the afternoon they attend public school to complete their education. As they get older they must decide if being a monk is their life's journey or if they wish to return to a more secular life. Buddhists cremate their deceased, but Chinese or mixed Chinese in Cambodia are buried. Every April the families come and clean the graves in preparation for spring.
After checking out the best view of the Mekong River, we boarded the ship and headed for Angkor Ban. Underway our guide discussed Cambodian geography, culture, history and Sokun gave us a demonstration of tying and using our scarves.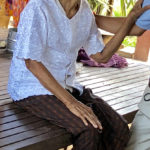 At Angkor Ban we climbed up the shore to town (water level is low, we're in the dry season, waiting for the monsoon season). The town is comprised of homes built on stilts, a primary school, a pagoda, etc, We walked the streets and met a grandmother who warmly welcomed us. We visited with her, she was 86, red teeth from the beetle leaves, very thin. She was caring for her great grandson and great granddaughter. She even invited us up to her home to see how Cambodians live.
We passed some of the best looking cows in Cambodia. This town feeds their cows well and bathes them twice a day in the river. We saw free range chickens and even a cat or two
Cambodian Home

This is a typical Cambodian home, this one has indoor cooking facilities and propane.  Many ...

See images »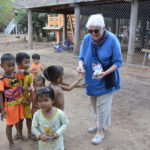 As we walked around, I had taken some life savers with me and handed them out to the pre-schoolers. I was almost mobbed. Next stop was the English language private school. We had been advised that it would be a wonderful idea if we would bring books and pencils with us and donate to the school. I also donated my whole bag of life savers to the teacher! We each sat with a student and helped them read.
They were particularly interested in our pronunciation and faithfully copied us. A few of the children went to front of th class, introduced themselves, gave their name, sex, age, and told us what they want to be when they grow up. We had teachers, doctors, a soldier, and even a tour guide. It was a heartwarming visit that I will always remember.
We climbed down the hill to the Mekong Navigator and headed to Phnom Penh.
Cambodian English school

Pat reading with her student.

See images »