March 1, 2018
We're off at 0830 for our market and street food tour with Chef Thân. We
started our journey to the small permanent market Cho Vuon Chuoi in the 10th quarter. The side streets were lined with vendors and these were refered to as quick markets where people could ride up stop and get what they required for the day without the need to get off their scooter and park. The market was as expected narrow alleys with vendors on both sides selling fruits, vegetables, rice, noodles, and the list was extensive. First stop for a sample was the fresh spring being made by a vendor for the days sales. Rice paper
filled with pork, shrimp, lettuce and garlic chives. Along the way we sampled fried bananas and sweet poatoes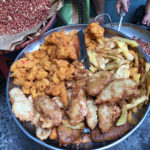 which were dipped and fried as we waited. I was able to get a great deal of information from the chef about various vegetables and herb and combinations.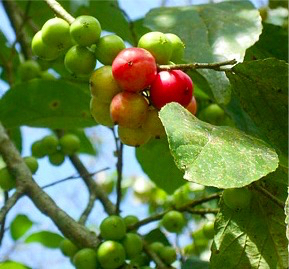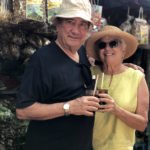 A quick stop for an energy drink of tea made with various herb and a sugar cane syrup with gave the drink a taste of a hint of mollassas. Next stop was for breakfast at a woman who made home-made rice cake, similar to too but far more flavorful. She prepared the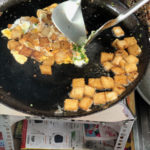 dish outside her home on a small flatish wok and sauted the rice cake with eggs. It was served with green papaya on top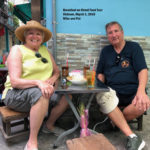 and a chili dipping sause which we added additional chili to. We also had traditional ice coffee with sweetend condensed milk which gave the coffee a chocolate milk like taste.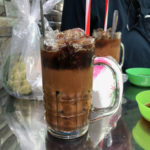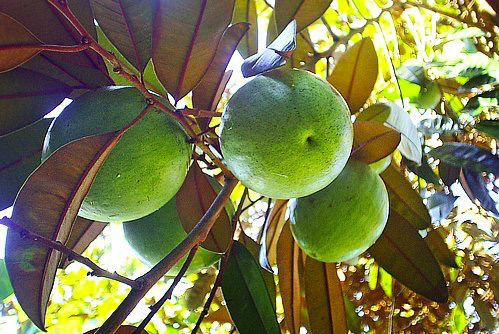 After the meal Thận ran off and came back with several fruits to small in addition to our cherimoya (custard apple)which resembled an artickoke in appearance. We had small fruits that looked like cherry tomatios but hade a sweet sour taste, lovi-lovi. We also tried Star Apple which has a soft and sticky center and was very flavorful.
Then we were off again this time we stopped for some Vietnamese sweet soup (Che). There are hundreds of variations but this one was made with Longon juice, Lotus root, seaweed, water chestnuts, and longan fruits. Pat and I asked to share, it was very sweet and an experience.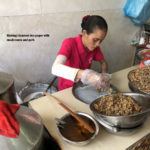 More food, we stopped to watch a woman making steamed rice paper and filling with meat, amd chopped mushrooms and we sampled a plate served with a sauce and lettuce and mung bean sprouts.
Next stop charcol roasted bananas, the bananas are peeled and partically dried in the sun the sopped in salt water and roasted over charcoal. It makes the exterior a bit leathery and the inside soft and creamy.
Wok roastered Peanuts with salt and ask, simply tastes like a reasted peanut. The peatuts are mixed with salt and charcoal ask which acts like and oven so they can be cooked in the wok.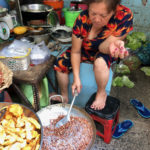 Off to view the flower market Ho Thi Ky
Next stop lunch at Quán Ǎn: Cȏ Liêng, a tiny restaurant frequented by the locals. They served roast pork, minced roasted pork and
roasted pork in bettlenut leaves. You use rice paper and lots of lettuce and herbs and dip in a banana flavored sauce. Outstanding! Tham concluded our tour and back to the hotel.
Pool time! We laid around the pool and went in several times to cool off for a few hours to decompress!
Tonight were on the hunt for pizza, and then off to bed.
We went to Nano Italian for dinner of focaccia, fruit mist, pizza with chorizo and a couple glasses of beer; I think you can tell were looking forward to some good western style food.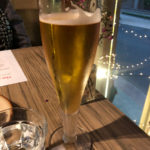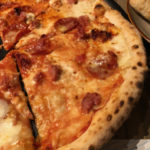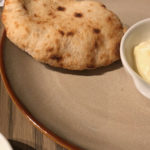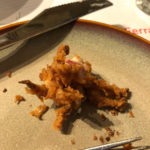 Wake up time is 0430 tomorrow.