February 16, 2018
Up at 0600, breakfast and on the bus to Angkor Wat, brief stop at ticket office for photo for ticket.
We arrived Angkor Wat at 0800 and toured the UNESCO Heritage site and our guide Sakou shared the history and other information.
We the toured a family run noodle making business in a small Cambodian village, named Preach Da village. The entire process was done by hand from grinding the rice to the extrusion of the noodles.
The family make about 18-20 pound a day which sells for $.50 a pound.
At the Chanrey Tree Restaurant we had a traditional Khmer (pronounced Khmee) lunch consisting of: Bok svay "chicken salad", crispy sticky rice with "Natang Sauce", Beef Jungle soup, River filet fish, eggplant with pork ribs and Mango sticky rice with Jackfruit (this is where the flavor of Juicy-Fruit gum is derived), Mango and Langon dessert.
We back a the hotel for a shower, it was 93 degrees. We took quick showers and changed clothes and are headed out for a Tuk-Tuk tour of a school of dance. The school has 80 students. The instructor, who is a French Expat, shared that there are not enough teachers in the schools so students go a 1/2 day and the teacher teach a class in the morning and a second class in the evening. If you think this is easy try bending your hand backward they practice for years to be able to make these gestures.
After the dance school we went to the artisan village where students learn wood carving, stone carving the art of lacquering, silver smithing, and silk screening all very interesting skills, most of the items are also available in their gift shop.
Side note: After the artisan village we took the tuk-tuk to the Lucky Mall, my shoes were beginning to lose their soles so I figured that I should get a back up pair in case so I purchased a pair of walking sneakers, not very high quality but they should make it for the next 10 days.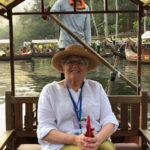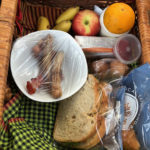 We have to get up at some un godly hour, 0400, tomorrow to go see the sun rise from Bakheng Hill, overlooking Angkor Wat, we depart the hotel at 0500, then we have a picknick breakfast and a gondola ride on the river and them the rest of the tour folks catch up with us and we then visit two temples . This was the site where Laura Croft: Tomb Raider was filmed in 2001.