February 22, 2018
This morning we have to clear customers and immigration, at least the boat does I don't think we paericipate the Pursur has had our passport since boarding.
We enjoy a leisurely morning on board and have nothing scheduled until after lunch.
We also meet our new Vietnamese guide for the remainder of the voyage. Were looking forward to hearing his talks on the area and the people.
At 1430 we depart via sampan for Tan Chau. We have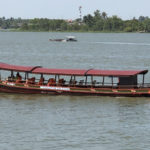 been anchored here all night off the cost, in the Mecong River. We took a ride in a XE LOI traditional Rickshaw using person power via bicycle and go for a visit to the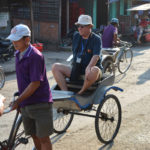 local rattan factory that produces baskets and mats. Most Vietnamese now sleep on mattresses so it will be interesting to hear about changing markets, probably beach mats in Europe, Asia ans the US.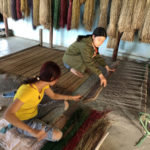 We took a sanpan to Evergreen Island disembark for an Authentic, cultural interaction and stroll around the island and dive into the daily life of it's inhabitants. On the island they frow daikon, chilis, sweet potatoes, peanuts, mangos bananas, and corn for animal feed. They also have cattle for working the fields, chickens and ducks for food.
We met a Grandpa San who's name was "five" because his parents had so many children she could not keep track of thier names. He was a soldier in the ARV army during the war and was wounded in 1973 and returned to his village. After the war he was sent to a Communist reeducation camp for a year but he must have been on good behavior or a good actor becuse he was released in 6 months. I do not think he spoke English but was very interesed in his fellow veterans in the group. I'm sure there was a story there that would have been interesting to explore more.
We visited a Talipia Farm where the family operations make an after expenses income of $30,000 which is a excellent income. They produce two crops of fisk per year, it takes 5 months and grow about 350,000 fish per crop.