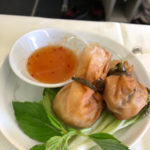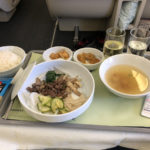 Our Flight from Saigon left on time.  We had breakfast/lunch on the flight.
We'll we're stuck in Korea.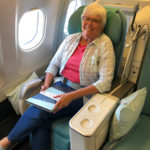 Unfortunately Korean Air never asked us about bags and just checked them through to tomorrows flight. Fortunately Pat had her meds in the carry-on. I can live a day without them.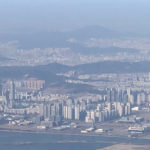 The whole thprocess was handled very poorly, of course we had to go through immigration and customer and we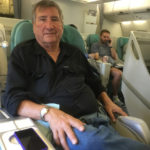 did not know where we were staying and the immegration officier was very confused about us not have an address in Seoul or elsewhere in the country, I think he finally got it, because he finally gave us a stamp, really a ticket, but there were a number of strange looks.
Then we had to go to the Sky Counter and get hotel and meal vouchers, of course when were got to the counter we got a Trainee, who's English was excellent but she clearly had not completed this process before. Then we sit a wait for the bus to the Grand Hyatt, once on the bus the driver would not drive above 50 kph, it seem to take forever to get to the hotel which is completely on the other side of the airport. We requested tooth brushes, tooth paste, razor and a comb.
Dinner and breakfast at the hotel with our vouchers mostly because were a long way from the city..
Final note: we have no coats!
It may sound like were bitching but it just the frustration of watching a proces that could have been handled smoother and more professionally, after all they knew the flight was cancelled and could have provided more information.