February 24, 2018
The roughly oblong-shape province of Vinh Long sits along the Delta island, with the Tien Giang (Mekong) river running along its northern boarded and the Hau Giang (Bassac)river running to its south. Lush and heavily cultivated with both rice and fruit orchards, the province is criss-crossed with canals and tributaries all flowing into the teeming rivers that form its boarders.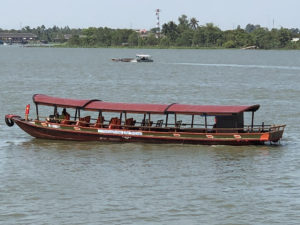 We left the boat at 0830 for a rice factory where pop rice, rice paper and other rice products are made.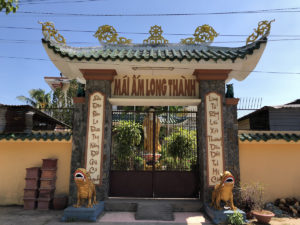 We then proceed to visit a pogoda where Vietnamees Monk and Nuns live. The Vietnamce Buddist sect is vegetarian only. Included in this pagoda is a nursing home where elerly people with no family live. While their live is regimented beginning at 0545 and ending at 2130, they arriver to live comfortably by Vietnamesse standards getting three meals of rice and vegetables and even sticky rice dessert. They can watch TV in the evening from about 1600-2130.
Were now back aboard the boat for lunch.
Vietnamese food is distinct and unforgettable. The cuisine relies on a balance of salt, sweet, sour and hot. achived through the use of nuoc mam, a fermented fish sauce, cane sugar the juice of kalamanssi citrus fruit to tamarind and chili peppers.
Cai Be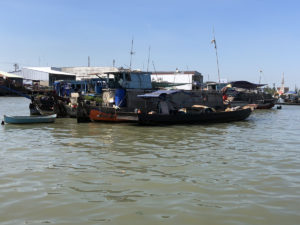 As we entered the canal at Cai Be we passed floating market, although few in number, since they construct a bridge across the canel ,we still observed boats selling daikon, bananas and sweet potatoes. They display what they are selling attceched to a long bamboo pole, advertising Vietnamese style.
We the got off the boat for a row boat ride, Pat went and I stayed on the
sanpan because the sitting position was too low. Good move we skirted the island with an excellent breeze,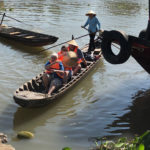 while Pat and the others sweated being below the tall grasses and trees.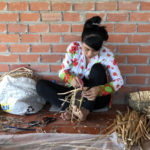 They joined back up with us at the water hyacinth is dried and made into baskets and other items. We then proceed to walk around the island, about a kilometer. First stop was to watch a grand mother making roof panels from coconut leaves
It  take about 100 panels for the average roof, the panels sell for about 25-cents US, the roof lasts about two years. Next we stopped at another rice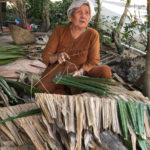 paper producing venture this one was slightly different than the first. They poured the rice batter into a can with holes and then swirled around a small 12-inch wok. The finished product looked like fine lace.
Fresh coconut aboard the sanpan and a short ride to joing the cruise ship the mekong Navigator.
This is our last night on board, we paid our bill and got our passport back and tomorrow we depart for Saigon (Ho Chi Minh City) via by bus, about a 2-hour drive depending on traffic.